Filming In Georgia
For over 40 years, the Georgia Film Office has been engaged in bringing film and television production to Georgia. Known for its temperate climate, great variety of locations, the world's busiest airport, large crew base and pro-business focus, Georgia is now a leading destination in the world for filming.
Georgia is a Camera Ready state, with location diversity, production resources and much more...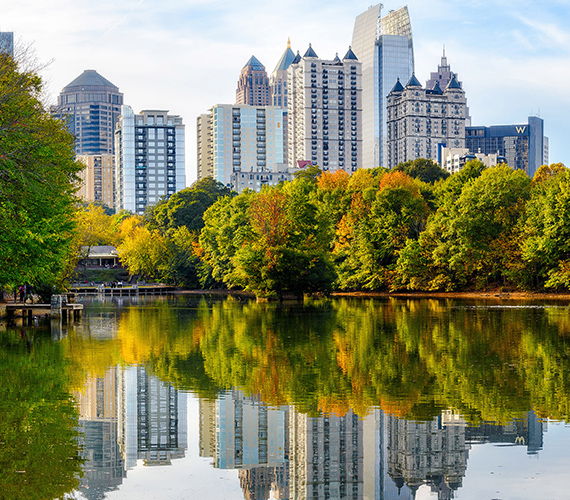 Atlanta
Atlanta has become a center for film and television production with the presence of Turner Studios, the Tyler Perry Studios in Southwest Atlanta; and the EUE/Screen Gems soundstages in Lakewood Heights. Both films and many popular TV shows such as The Real Housewives of Atlanta, Tyler Perry's series, and Family Feud are produced in Atlanta. In 2014, Pinewood Studios opened a large studio in Fayette County, Georgia.
The City of Atlanta offers many inherent benefits to the industry, including a distinctive urban setting, combined with rural, semi-rural, and "old-south" scenery; a racially, ethnically and culturally diverse workforce. Home to state of the art production studios, cutting edge technology and Hartsfield-Jackson Atlanta International Airport which makes Atlanta easily accessible from any location nationally and internationally, Atlanta is becoming a leading destination for filming in Georgia.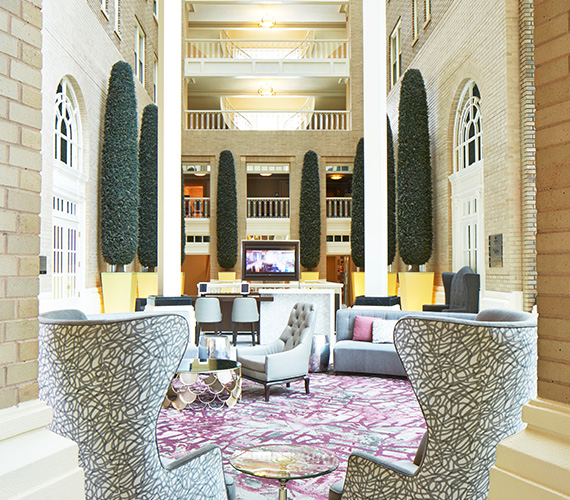 The Georgian Terrace
Built of brick and marble, with its floor-to-ceiling windows, the Georgian Terrace Hotel was designed in the Beaux Arts style as a Southern interpretation of the Parisian hotel. Striking architectural details, crystal chandeliers, and a whisper-soft color palette create an atmosphere of timeless elegance in our Grand Ballroom, host to many notable gatherings in Atlanta's storied history.
Amenities & Services for Production Crews
The Georgian Terrace is pleased to offer Film Production programs the following amenities:
Full Kitchens
In-suite washer/dryers
Individual Air Conditioning units in each room
Game Room
Movie Room
Themed Events
Secured Covered Parking - Discounted
Discount on Food and Beverage outlets
Thermometer readings at all ingress/egress points
Café-style restaurant services at Livingston Restaurant+Bar
Private meeting rooms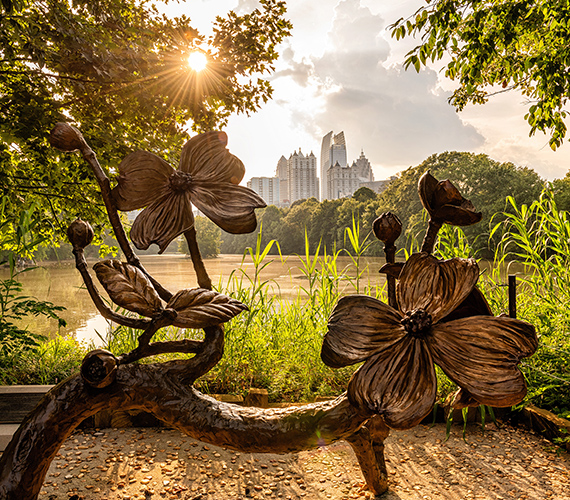 Location
Perfectly located in the heart of Midtown Atlanta at the intersection of Peachtree Street and Ponce de Leon Avenue. The Georgian Terrace is set amongst art museums, boutiques, cafés, restaurants, and adjacent Georgia Tech. Located 10 miles north of Hartsfield Atlanta International Airport, and one mile north of the downtown central business district, across the street from The Fabulous Fox Theatre. Easily accessible from Interstate 75/85. The Georgian Terrace offers a boutique hotel experience slow-steeped in true Southern hospitality and style. Welcome to Atlanta, and welcome home to The Georgian Terrace.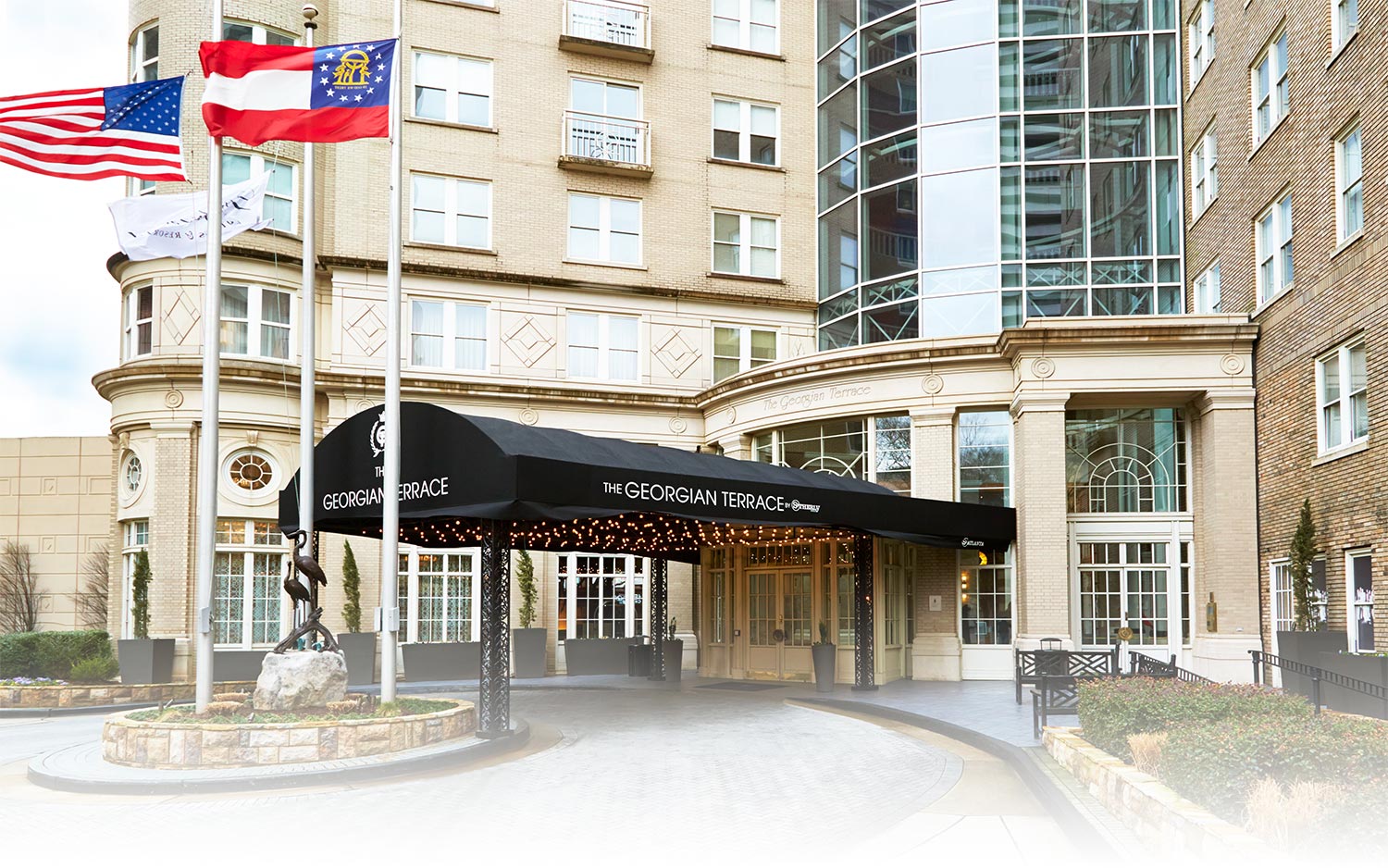 When it comes to our guests, safety is our first priority. As a member of Sotherly Hotels' collection of independent properties, we are operating at the highest standards for hygiene and cleanliness as part of Sotherly's "SoClean" initiative. Please see below for a summary of the steps and precautions we are taking as part of the SoClean program, and please don't hesitate to reach out to us if you have a question about a specific aspect of your stay.
Highlights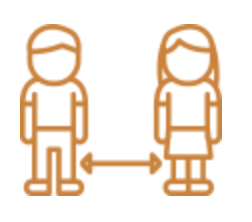 Encouraging physical distancing of at least six feet for all guests and staff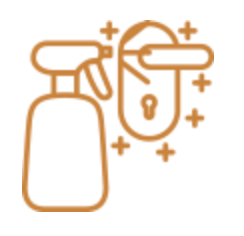 Increased frequency of general detail cleaning
Disposable menus and limited capacity at restaurants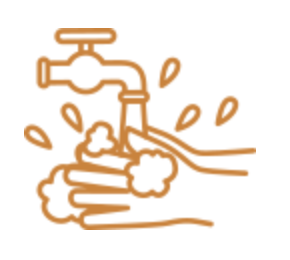 Trained staff following all safety and cleanliness protocols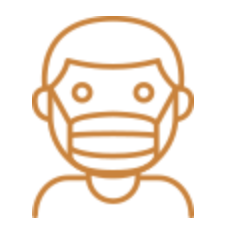 Sanitizer, wipes, and masks provided for guest use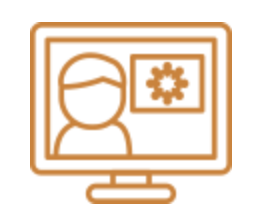 Closely monitoring all guidelines from national, state, and local health authorities
For more details on our SoClean program please refer to the following www.thegeorgianterrace.com/soclean