Skip to Content
Welcome to The Georgian Terrace
Welcome to The Georgian Terrace
The iconic Georgian Terrace is the undisputed Grand Dame of Atlanta, a 20th century Beaux-Arts beauty that's deeply etched in the city's heart, history, and Southern heritage. The epicenter of Midtown's thriving arts and culture scene, the hotel is a landmark of modern luxury and sophisticated Southern hospitality, inviting guests to ease into the city's warm and welcoming embrace.
Book Direct Benefits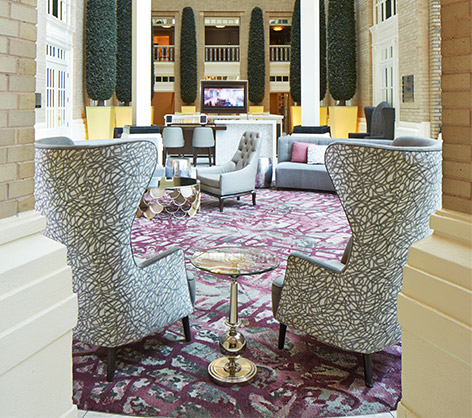 atlanta, georgia

Discover the Capital City
Fox Theatre - 1 min
Georgia Aquarium - 8 min
Mercedes Benz Stadium - 12 min
Explore
Map
See what Guests are saying
"Wonderful Southern Hospitality"
Was here for a business meeting and from the moment I walked into the hotel I was made to feel welcomed and pampered. The hotel staff, especially Reid at the Front Desk, are very friendly and do everything possible to make your stay a memorable one. The meeting room was comfortable and the food served for breakfast and lunch delicious. The hotel rooms are spacious and well designed. The location is also a plus, we walked to all restaurants and attractions. All in all a great place for a weekend getaway or a business event.
- MDC54
"A beautiful modern classic hotel"
Unbelievable service, impeccable rooms, gorgeous architecture and design. The food is wonderful as well. Hit the speakeasy downstairs for drinks! Great location also. Be sure to walk 30 minutes to Piedmont Park, the Central Park of Atlanta. Highly recommend this hotel for business or pleasure! A wonderful Preferred Hotel!
- cdlegris
"Feels like home."
The Georgian Terrace is right across the street from the Fox Theatre. We stay there every time we go to a Broadway play. Just walk across the street. Ahhhh. No hassle with traffic. And the staff is always ready to take care of all your requests.
- Ellen M
"A Magical Hotel"
Attention to detail makes this hotel a magical place. From impeccable decor, to exquisite cuisine, and a truly personable staff. Every moment of our stay was a lasting memory. Our view was of the fabulous Fox Theatre. The hustle and bustle below was reminiscent of ages past. Our room was a one bedroom apartment with a comfortable living room, dining room, and a round bedroom. Truly a dream!
- Jodi D